Share your Video on Social Media
Cheers Connect provides you with the opportunity to share your videos to any social media channel whether as a post or private message in simple steps. In addition, to adding Meta elements that'll help you with SEO.
To share your video on any social media channel:
Choose your video, click on "Actions" and then on "Edit"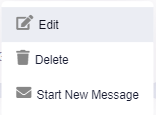 Once your are in the editor, click on "Share"

Choose the social media channel you want to share your video at and then click on it's icon

You also have the opportunity to use the public URL generated for the video
To add Meta Elements:
When in the editor, scroll down and click on "Meta Elements"
Insert title, keywords and description
Save your changes