Add a Thumbnail to your Video
You can change the preview image of your video by changing the thumbnail. In Cheers you can have the thumbnail as a static image taken from the video itself, as a custom image and as a GIF.
To add a thumbnail to your video:
Choose the video you want and then click on "Actions" and then on "Edit"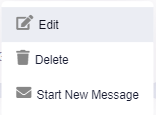 Click on "Thumbnail" at the right of your video

By default your video's thumbnail will be a GIF, to add a static image from the video instead, click on "Static Image" and then choose from video

Select the frame you want, click on "Set" and then on "Apply Changes" to see the changes


To choose an animated GIF from the video, click on "Animated GIF" and then choose from video (same as above)
To choose a custom image click on "Custom Image" from the thumbnail list
You can take a photo on spot or upload an image from your device


Save and click on "Apply Changes" to see the new thumbnail